Member Home
Standard Operation Procedures Made Easy
CONGRATULATIONS…Here's your access to…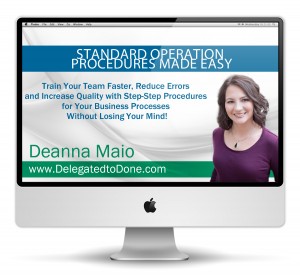 Standard Operating Procedures Made Easy
This program allows you to train your team faster, reduce errors and increase quality with step-by-step procedures for your business processes.
It includes 10 short training videos, templates for creating procedures, a sample procedure flow chart, along with a list of common standard operating procedures you may need.
Here's your "Illustrated Training Sheets"
This collection includes over 140 ready-to-use, fully-illustrated training sheets you can personally customize or give directly to your helpers out of the box to get you started.  These training sheets include common business tasks like: using different web development tools, blogging formats, shopping carts, cpanel, and much more. Just load them into your Evernote system (or where ever you are storing your SOPs) and you're ready to go.
Training Videos
Video 1: What Are Standard Operating Procedures and Why Does Your Company Need Them

Video 2: Identifying Key Areas That Need Standard Operating Procedures

Video 3: Writing Your Standard Operating Procedures

Video 4: Are Standard Operating Procedures Restrictive

Video 5: Reviewing SOPs

Video 6: When Your Standard Operating Procedures Dont

Video 7: Standard Operating Procedures for Your Company's Finances

Video 8: Human Resources Procedures

Video 9: Computer and IT SOPs

Video 10: Standard Operating Procedures for Freelancers